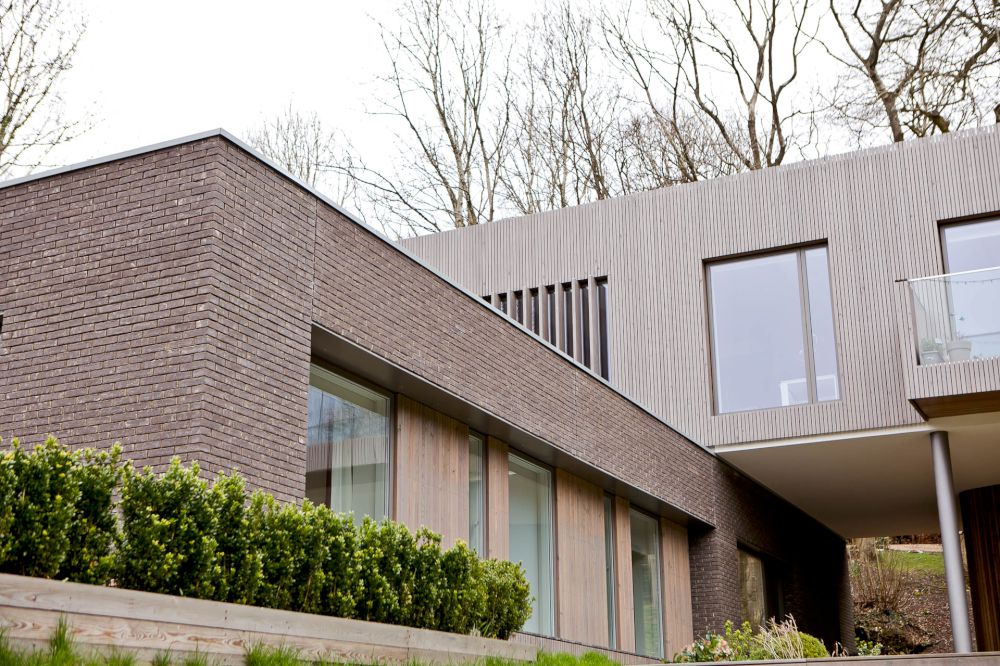 CONTEMPORARY
NEW BUILD WOOD CLAD HOME
TATSFIELD
We completed extensive groundworks, brickwork, bespoke larch cladding installation and full internal fit out, for this new build project, working closely with the client and their architect.
We were invited to tender for the work as we are a local family firm with a very good reputation.
Duration: May 2016-September 2017
Periodic tendering based on sectional packages released by the architect as the job progressed
Bespoke contract
Scope of works:
Creating new driveway access to the existing dwelling through a steep wooded hillside, ahead of demolition.
All groundworks ahead of client's direct timber frame installation.
All brickwork and bespoke larch cladding installation along with internal fit out, through to completion.
The project involved the hand fixing of 1,100 lengths of larch timber first floor cladding – we used 7,500 stainless steel nails in the process!
Due to the steep sloping site, we had to construct 3 large, reinforced concrete garden retaining walls.
We achieved a near zero rating for air tightness (0.6 reading) – the industry standard is 5.
We also installed PV panels to power the house.
We approached Ling & Sons to build our modern house following recommendations from neighbours and for their good local reputation. They undertook demolition of the old property, access and driveway/retaining works and foundations/drainage, then returned to complete all the cladding, roofing, interior work, services, joinery, decking and paving.
As both architect and client, we found them to be patient and collaborative throughout the build process and, notably with the timber cladding, took great care in treating it as a piece of crafted joinery.
We were thoroughly happy with the quality of workmanship throughout the build, their management of the site and build process and their sub-contractors. We were delighted that our home was shortlisted in both the RIBA Awards and Sunday Times British Homes Awards in 2018.
Mr and Mrs Syrett